Durante  esta actividad en la que se programaron conferencias de tipo académico y la presentación de carteles Científicos, el optómetra colombiano Juan Sebastián Bejarano, participó con un póster científico relacionado con la luz azul, tema que cada vez toma mayor relevancia en la industria.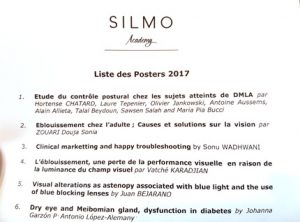 "El nombre de mi póster fue Visual alterations as astenopy associated with blue light and the use of blocking lenses.  Con la presentación y sustentación de este póster recibí el premio Prix du Meilleur Poster – Prix spècial du Jury", afirmó Juan Sebastián, quien se mostró satisfecho de conseguir este logro, representando una vez más, a los profesionales de la salud visual en Colombina.
Este un interesante premio académico para un profesional latinoamericano en una feria que es de afluencia europea y asiática.